Classic car shows are great places to go when you want to see how much some people love their cars and have cared for them over several decades.
It would be nearly impossible to deny that you love to see a classic car that's been cared for and properly maintained.   A car that comes from many decades in the past is one that you can admire and enjoy seeing on the road. If you want to see more classic cars in one place, you might want to visit one of the top ten classic car shows offered around the country.
Pebble Beach Concours d'Elegance
Located in Pebble Beach, California, the Concours d'Elegance is a parade of vintage vehicles that offers you a look at some amazing cars that have been cared for and babied for many years. More than 200 collector cars and motorcycles come to the Pebble Beach Golf Course to be presented and put on display. Other cool things that happen at this show include reveals from some of the major automotive names. This is a show that will make you smile and give you a look at some of the most historically impressive cars brought to this location.
The Woodward Dream Cruise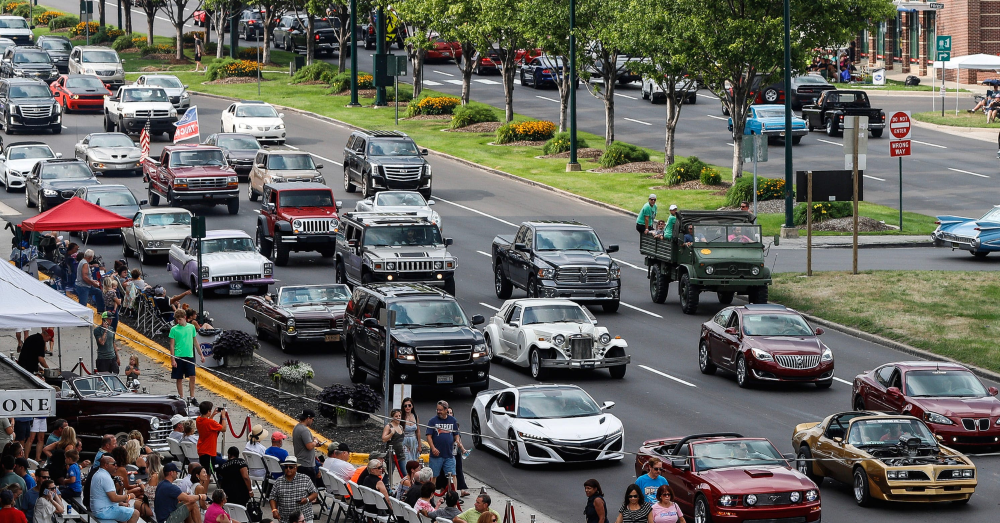 Motor City, which is Detroit, Michigan, has its own classic car show and event. This show features a variety of classic cars that come from around the country. More than 40,000 classic cars are put on display at this show and then all cars make their way during a cruise down Woodward Avenue to offer attendees a parade of American beauty. Some of the cars at this show are restomods which are cars that have been restored and modified to look unique and interesting.
Charlotte Autofair
If you want to attend the largest automotive show in the world, you need to make the drive to Concord, North Carolina in September or April to check out the Charlotte Autofair. This event is held at the Charlotte Motor Speedway and it features auctions, a classic car area, and many merchant areas. There's something for everyone at this show. If you love cars, want to see what's coming next, or are simply looking for a great way to spend a weekend, the Charlotte Autofair can be perfect for you.
Amelia Concours d'Elegance
The French name of a parade of vintage cars shows up again at Amelia Island near Jacksonville, Florida in March each year. This classic car show takes place at the Ritz-Carleton on the island as the most impressive vintage vehicles compete for a pair of awards. Whether you want to take a spring break trip to Florida or you're looking for the early spring car show that will get your annual gasoline fix started, this can be the show for you. The Amelia Concours d'Elegance is a three-day show, giving you a great opportunity to enjoy what's on display.
The Elegance at Hershey
Hershey, Pennsylvania is known for more than being the home of the chocolate that bears the same name, its also the location for an amazing car show every year. Make your way to this location in mid-June and you'll be pleased to see some of the most beautiful vehicles that were part of the previous eras of driving. There's also a vintage race which is one of the signature events during this show to give you something cool to see when you visit Hershey.
Southwest Street Rod Nationals Plus
Head to the State Fair Park in Oklahoma City, Oklahoma in April and you'll be part of one of the most fun and impressive auto show events I the country. This is just one of ten events sponsored by the National Street Rod Association every year. Take a look at the more than 1,700 vintage cars on hand and let your imagination and wonder loose at this show. You'll be glad to see the cars that have been meticulously cared for and maintained at this event.
Hilton Head Motoring Festival and Concours d'Elegance
One of the longest shows on this list is the Hilton Head Motoring Festival. This sow takes place in the Hilton Head, South Carolina area and it's a ten-day exposition of automotive history and development. This show is more than just a classic car show, which makes it a lot of fun for you. You'll see a speed classic, a car club showcase, an aerodynamics show, and the Concours display which gives you a look at the cars you want to see.
Telluride Festival of Cars & Colors
The newest of the classic car shows in the US takes place in Telluride, Colorado. For four days in September, you can attend this event and celebrate the classic cars while enjoying the backdrop of the fall foliage which makes the colors of the cars pop. You'll see a ton of old cars, high-end restorations, vintage vehicles, and exotics that you don't see anywhere else. Make your way to Telluride in the fall and check out this car festival and see the amazing vehicles on display.
Iola Old Car Show & Swap Meet
Make your way to the north and visit Iola, Wisconsin for the Iola Old Car Show & Swap Meet. This show is a three-day event that takes place in mid-July, giving you a summer road trip and a great destination. You'll see more than 2,000 show cars and over 4,000 swap spaces to give you a chance to buy a historic vehicle. If its time for you to bring a classic car home, you'll want to attend this show and enjoy the fun of owning a classic car that you can love and care for.
The Texas Hoedown
The Texas Hoedown is one of the best classic car shows and it features a variety of hot rods from the pre-1972 era. The location is Homestead, Texas and it takes place in May every year. Check out the hot rods, muscle cars, and choppers on display at the Waller County Fairgrounds on the fourth Saturday. This show features a roller derby, an art show, and live bands, making it a party that you're sure to love. Texas is the place to be in late May.
This post may contain affiliate links. Meaning a commission is given should you decide to make a purchase through these links, at no cost to you. All products shown are researched and tested to give an accurate review for you.