Shoppers looking for the least expensive new car for the 2024 model year should head right to their favorite Chevrolet dealer locations. The 2024 Chevrolet Trax, when it arrives next year, will be the lowest-priced American-branded vehicle.
Don't be mistaken, though; being the least expensive vehicle doesn't mean that the Chevy Trax is cheap. This SUV comes equipped with modern features, high-quality materials, and a stylish new look that makes this rig worth every penny. Read on to learn more about what to expect from the lowest price vehicle available at your local Chevrolet dealer.
A Complete Overhaul
Shoppers who stop by their local Chevrolet Dealers next year may not recognize the new Chevy Trax. The 2024 model has a fresh look and feel when compared to the current version of this popular SUV. This updated version comes with a longer wheelbase and length, along with a lower roof height. It is expected to offer more legroom and cargo capacity.
Drivers will love the turbocharged 1.2-liter inline-three engine that produces 137 horsepower and 162 lb-ft of torque. There is also a 1.3-liter turbo engine available (155 horsepower). It is only offered with front-wheel drive but should improve on the current Trax's 27 mpg combined fuel economy rating.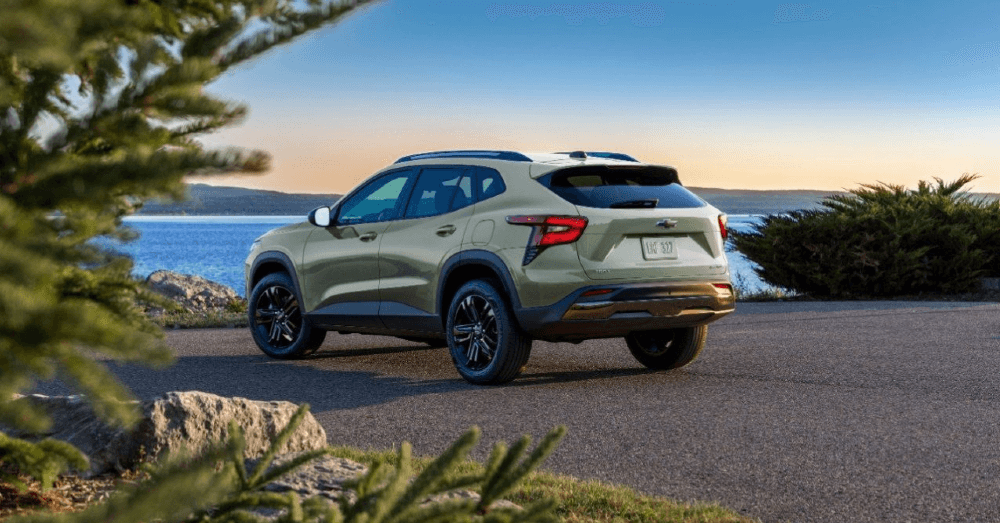 The base-level LS comes equipped with plenty of gear for the price, including an eight-inch touchscreen infotainment center, Apple CarPlay/Android Auto, automatic high beams, and lane-keeping assist. Higher-level trims can come with an 11-inch touchscreen, automatic climate control, a sunroof, and more.
Even the sportier and more rugged trim levels start under $25,000.
2024 Chevrolet Trax Delivers Tremendous Value
The 2024 Chevy Trax will have a starting MSRP of $21,495, which is less than the current model's price of $22,895. The new version of this SUV is significantly larger than the model it is replacing. In fact, the Trax will be just as long as the Trailblazer.
Currently, the Nissan Versa holds the title as the least expensive vehicle, with a price of $16,675 for 2023. The Mitsubishi Mirage and Kia Rio are also priced under $20,000 for 2023. It's unclear if any of these vehicles will go for the title in 2024. Many auto manufacturers are moving away from smaller sedans and hatchbacks in favor of producing SUVs.
The Chevy Trax offers the best of both worlds. It's technically an SUV but offers the handling and feel of a sedan. Whether you're looking for an inexpensive daily commuter or need something for the new driver in your family, stop by your local Chevrolet Dealer to learn more about this fantastic rig.
The 2024 Chevy Trax should be available for purchase in the spring of 2023. There won't be a 2023 version of the Chevy Trax to ensure your Chevrolet dealer can be fully stocked and ready for the 2024 model.
This post may contain affiliate links. Meaning a commission is given should you decide to make a purchase through these links, at no cost to you. All products shown are researched and tested to give an accurate review for you.