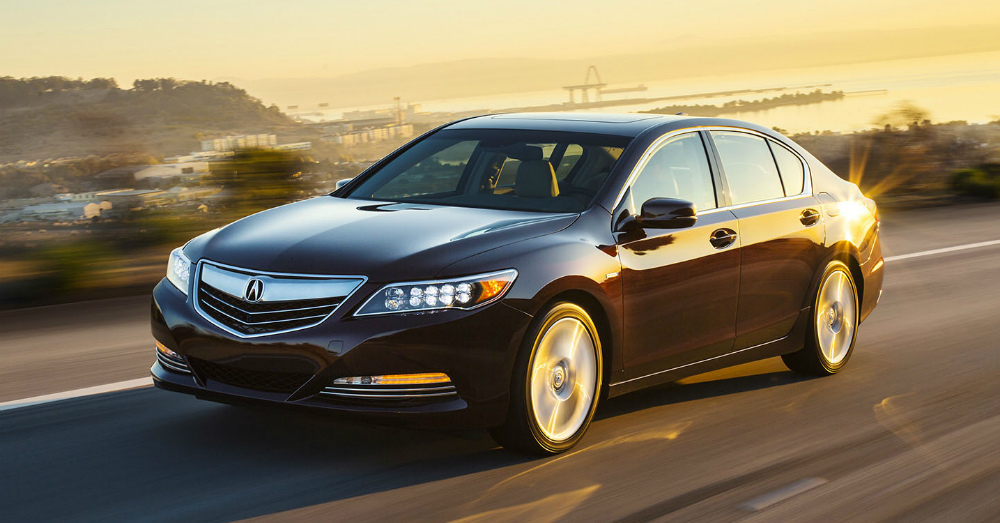 The Acura RLX is an awesome vehicle to drive, ride in and enjoy, but you wouldn't know it from looking at it.  Although its handsome, it's not a head turner by an means.  Unless you notice the badging you might not even realize this is a top model full of awesome luxury features and technology, and Acura is just fine with that.  This is a car that is made for those who can afford the luxury but don't really desire to draw the attention to themselves that typically accompanies a car of such style and elegance.
Knowing the RLX shows up with amazing luxury, let's start there.  The equipment you can choose to add to the RLX comes in some packages with a few stand-alone features.  These packages include the Technology Package that adds a leather interior, a 14-speaker Acura/ELS audio system, high performance tires, and the AcuraWatch safety suite which has Adaptive Cruise Control, Cross Traffic Monitoring, Forward Collision Alerts, Blind Spot Information, Collision Mitigation Braking, a Multi View Rear Camera, Land Keep Assistance and Road Departure Mitigation.  Next we see the Advanced Package which adds a Krell audio system, a surround view camera, AcuraWatch, heated and ventilated front seats, a heated steering wheel, heated rear seats, bi-direction remote engine starting and power folding side mirrors.
Now you know what options you can chose, but if you choose the standard RLX model you get a navigation system, a ten-speaker Acura/ELS audio system with hard drive media storage and USB input, Bluetooth streaming, tri-zone climate controls, a rearview camera, a moonroof, 19-inch wheels, the Precision All-Wheel Steer system, Leatherette seating and heated front seats with 12-way power adjustment.  The hybrid model adds standard all-wheel drive and a head up display to give you information right in front of you while driving.
With all these features the RLX must have a power plant that gives a reasonable performance as well.  The standard engine offered on this car is a 3.5-liter V6 that produces 310 horsepower and 272 lb.-ft. of torque.  This is attached to a six-speed automatic transmission that helps bring in fuel mileage of 20 city/31 hwy, which isn't bad at all for a car of this size.
Of course if you want more power and a hybrid powertrain the SH-AWD uses the same engine as the base model but adds three hybrid motors to the mix.  Two of these are in the rear and one resides up front to aid the engine and provide more power.  This combination brings in 377 horsepower and 341 lb.-ft. of torque.  This engine uses a seven-speed dual clutch automatic transmission and offers a fuel mileage of 28 city/32 hwy mpg, making it more efficient that the base model with much more power.
With all these features and the awesome power underneath, the RLX is a performance based luxury sedan and can give you the best of both worlds.  When you need a car that easily makes its way along your route to work and lets you enjoy some of the best features from inside the cabin, this is the car to choose.  On the other side of that coin, when you need to have a car that allows you to enjoy the performance of taking on some great twists and turns on the open road you can call upon the awesome performance of the RLX to take care of business and give you one of the most energetic rides you can have on the road in a car that gives you all the luxury and sport you could desire.
When you are looking to see what's new and how the 2016 is an upgrade from the 2015, the RLX now offers the AcuraWatch suite of driver-assistance features for all trim levels.  There is also a Surround View monitor and Road Departure Mitigation that are both new for this year along with a better overall suspension tuning and the new 19-inch alloy wheels.
Your favorite luxury features are waiting for you in the Acura RLX.  Whether you love the Lane Keeping Assistance system or another part of the AcuraWatch system or your favorite is the Krell audio package there is certainly going to be something you love about the Acura RLX which is one the most comprehensively equipped luxury sedans on the market today, giving you an awesome driving experience.
This post may contain affiliate links. Meaning a commission is given should you decide to make a purchase through these links, at no cost to you. All products shown are researched and tested to give an accurate review for you.