Large equipment rental is a breeze if you have the right full-size truck to tow it. If you often need to rent large equipment for your job, then you'll probably want a truck that can tow just about anything. The good news is that there are plenty of options out there when it comes to large trucks for towing. Let's take a look.
Ford Super Duty F-450
Tool rental and equipment rental are easy with this incredible work truck. The Ford Super Duty F-450 is the strongest truck in the lineup and is the truck of choice for tackling the biggest jobs. It can tow up to 37,000 pounds thanks to its standard dual rear wheel design and massive diesel engine. The F-450 offers seating for six passengers and comes in six different trim wheels. The most popular configuration of this powerhouse is the Lariat Crew Cab with 4WD and a 6.7-liter diesel V8 engine. The Ford F-450 is the most expensive truck on the market, but it also offers a lot of options and unmatched power. If you need some serious muscle from your work truck, it's hard to beat the F-450.
Ram 3500
The Ram 3500 definitely has some features going for it compared to the Ford F-450. It can tow slightly more at 37,100 pounds and it costs less for the base trim. However, the Ram 3500 doesn't come standard with dual wheels and many of its driver assistance features cost extra money as well. The most popular version of the Ram 3500 is the Tradesman Crew Cab with 4WD and a 6.4-liter V8 engine. All Ram 3500 models feature an incredibly smooth ride and a luxurious cabin that is hard to beat on the large truck market.
GMC Sierra 3500 HD and Chevy Silverado 3500 HD
The base price of the GMC Sierra 3500 HD is even lower than the previous two trucks, but the most popular trim is the Denali Crew Cab with a long bed and 4WD. This trim comes with a 6.6-liter V8 engine and starts at $75,295. However, to get the max towing capacity of the Sierra 3500 HD, you'll need to get the Duramax diesel engine, which can tow up to 36,000 pounds. The stablemate of the Sierra is the Chevy Silverado HD and its base price is a little bit lower. Like the Sierra, you'll need to get the diesel engine in this truck to unlock the max towing power of 36,000 pounds. The most popular trim is the High Country Crew Cab with a long bed and 4WD. The same 6.6-liter V8 that's on the Sierra comes with this trim as well. One big perk of the Silverado is a bevy of trailering technology that makes pulling heavy loads easier than ever.
Whether you need to rent large equipment or you already own a large trailer or work equipment, you can tow them with ease with any of these large trucks.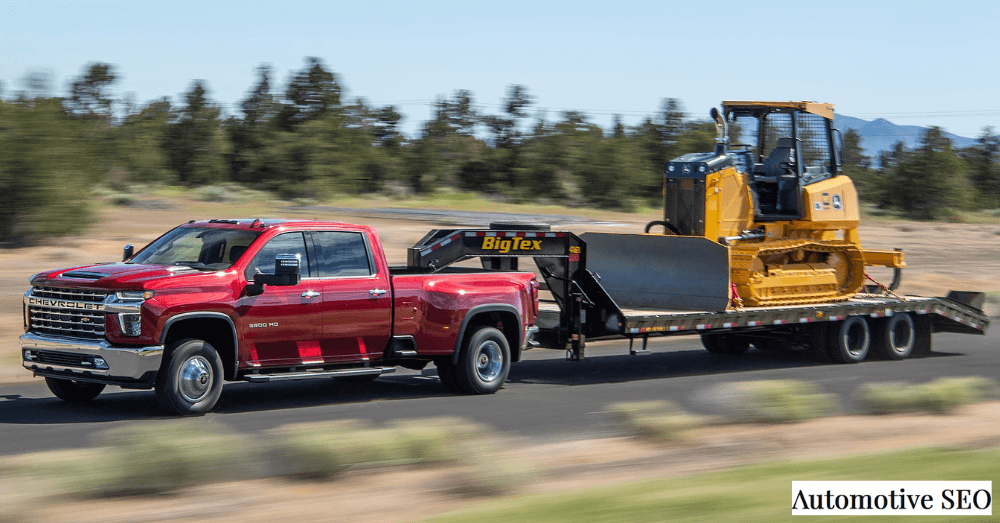 This post may contain affiliate links. Meaning a commission is given should you decide to make a purchase through these links, at no cost to you. All products shown are researched and tested to give an accurate review for you.