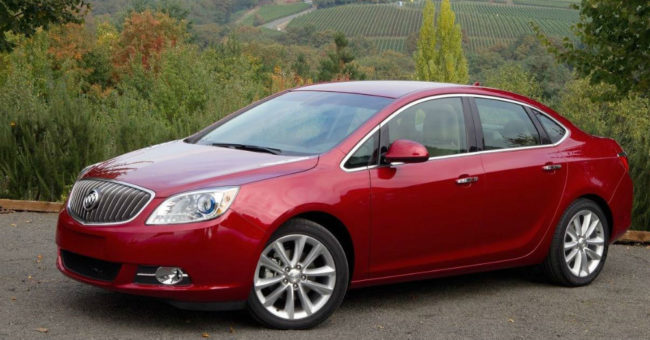 Many times the thought of driving a luxury vehicle comes with a long list of dollar signs to go along with it. When you need to replace parts, have maintenance performed or even put fuel into most luxury cars the cost is much higher than on your mainstream models. Sometimes it's just better, and certainly more sensible, to have a car that offers you the right way to enjoy the ride without the high cost of what luxury typically comes with. If that's the case for you, you'll love the ride of the Verano and what it offers you on the road.
The Buick Verano is a car that packs in the luxury items you want while remaining affordable to be a premium car that you can enjoy. This is a compact car that's easy to drive and enjoy while being efficient enough to make it easier for you to afford the ride. You'll love the high-tech features offered that bring you more safety and comfort than any other car in this class. This is the ride you want when you're looking for the most practical way to have the comfort you deserve.
When you visit your nearby Buick dealer you'll notice the Verano has lost its turbocharged engine and manual transmission.  A pinch smaller than the Buick LaCrosse, but just as luxurious, this car is meant to be a comfortable ride and not one that promises sport, making this reduction in the trim levels an important measure. You can have a quiet and comfortable ride in this car with the three trim levels that remain for you to enjoy. This car brings in the equipment you want and the sensibility on the road that make it one of the easiest cars you'll ever love to drive on any road. If you're looking for the car that's right for you, don't bypass the Buick Verano.
As a car that's offering you more, the Verano comes with some standard items that some of the competitors don't offer. The base model gives you 17-inch aluminum-alloy wheels, a six-speaker audio system, a seven-inch color touchscreen, 4G LTE Wi-Fi hotspot, dual-zone automatic climate controls, a tilt/telescoping steering column, cruise control, automatic headlights, an electronic parking brake, a remote start system, Bluetooth connectivity, sound deadening technology to give you a quieter cabin, airbags, stability and traction controls and the automatic crash response system through the OnStar communication system in the car.
Moving up the trim ranges you'll find the Sports Touring trim that brings in 18-inch wheels, heated seats, a power driver's seat, a rearview camera and rear parking sensors. The Leather Group offers you leather upholstery, a heated steering wheel, and a nine-speaker Bose premium audio system. Both of these trims can be had with the Driver's Confidence package which adds blind spot monitoring, rear cross traffic alerts, forward collision alert and lane departure warning. The Leather Group also offers an Experience Package which adds a power moonroof and the IntelliLink system with touch screen navigation through the infotainment system.
Now that the turbocharged engine is gone, there is only one engine that remains the sole power plant for the Buick Verano. This engine is a 2.4-liter four-cylinder model that gives you 180 horsepower and 171 lb.-ft. of torque. This engine is attached to a smooth operating six-speed automatic transmission and is set up in FWD only. You'll enjoy the 21 city/31 hwy mpg you receive in the Verano and love the fact that this is a premium luxury car that you don't have to use premium fuel in. The Verano is also offered with two years or 24,000 miles of included scheduled maintenance for you.
If you're looking for a smooth and comfortable ride that makes more sense for you and your daily driving needs, the Buick Verano makes a great choice. This is a small car with the features of a luxury sedan while bringing you the fuel mileage you want and the powertrain that's right for you. Let this can be the one you choose when you're searching for a great car to give you the ride and comfort you need. The Buick Verano is a sensible choice that upgrades the ride and quality for you; come in and check it out at your nearby Buick dealer today.
This post may contain affiliate links. Meaning a commission is given should you decide to make a purchase through these links, at no cost to you. All products shown are researched and tested to give an accurate review for you.